VENICE — As COVID-19 shut down large parts of the world, it has also shut out loved ones and residents of assisted living facilities — who are now largely shut in.
One Venice residence is starting to change that by establishing a Hug Wall, where husbands and wives or children and parents can again experience something that's been missing for months: the human touch.
"They haven't been able to hug and really feel their loved ones since March — so this is an opportunity to embrace safely — and to have that touch," said Tuscan Gardens at Venetia Bay Senior Living Executive Director Ali Turner.
On Saturday, Venice resident Jon Roy visited his wife, Joann, who has been living there for two years. He put on the prescribed gloves as Tuscan Gardens associates helped Joann stand up at the Hug Wall.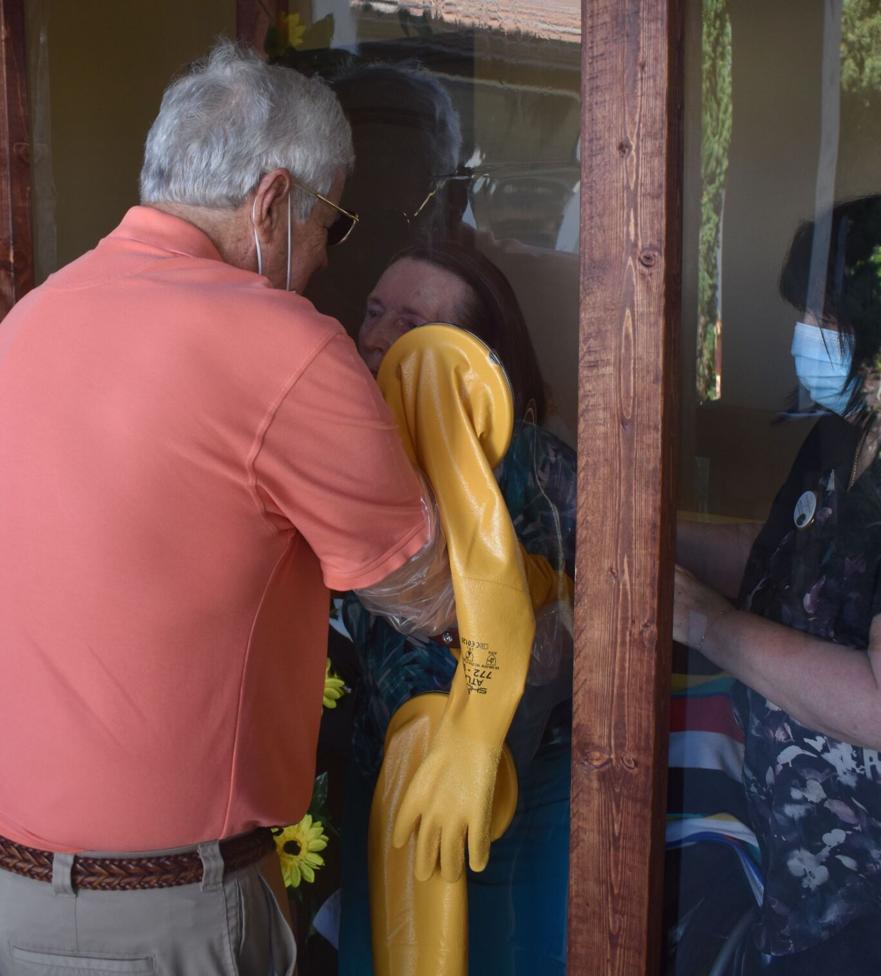 Jon Roy, laughing a little bit, was able to embrace her for the first time since March.
"That's the first smile I've seen from her in months," he told the workers as he looked at her.
It was her birthday and their wedding anniversary was the next day. He sang for her with employees joining in.
'Everybody that does it cries'
It's a fairly simple piece of construction when you look at it. It was just having the idea. The first Hug Wall in Florida was built at a sister facility of Tuscan Gardens in Palm Coast near Daytona Beach. The wall consists of a type of plexiglass and six holes in which large gloves are arranged.
To take part, you must also wear your own set of gloves that Tuscan Gardens provides. You insert your gloves into the rubber gloves and have the opportunity to touch a loved one again.
"That touch," Programming Director Alexis Raptis said. "We just need hugs. Everybody needs that touch. The intimate feeling of somebody holding you."
The Tuscan Gardens crew first tried it on one another before making it an option for residents.
"Everybody that does it cries," she said.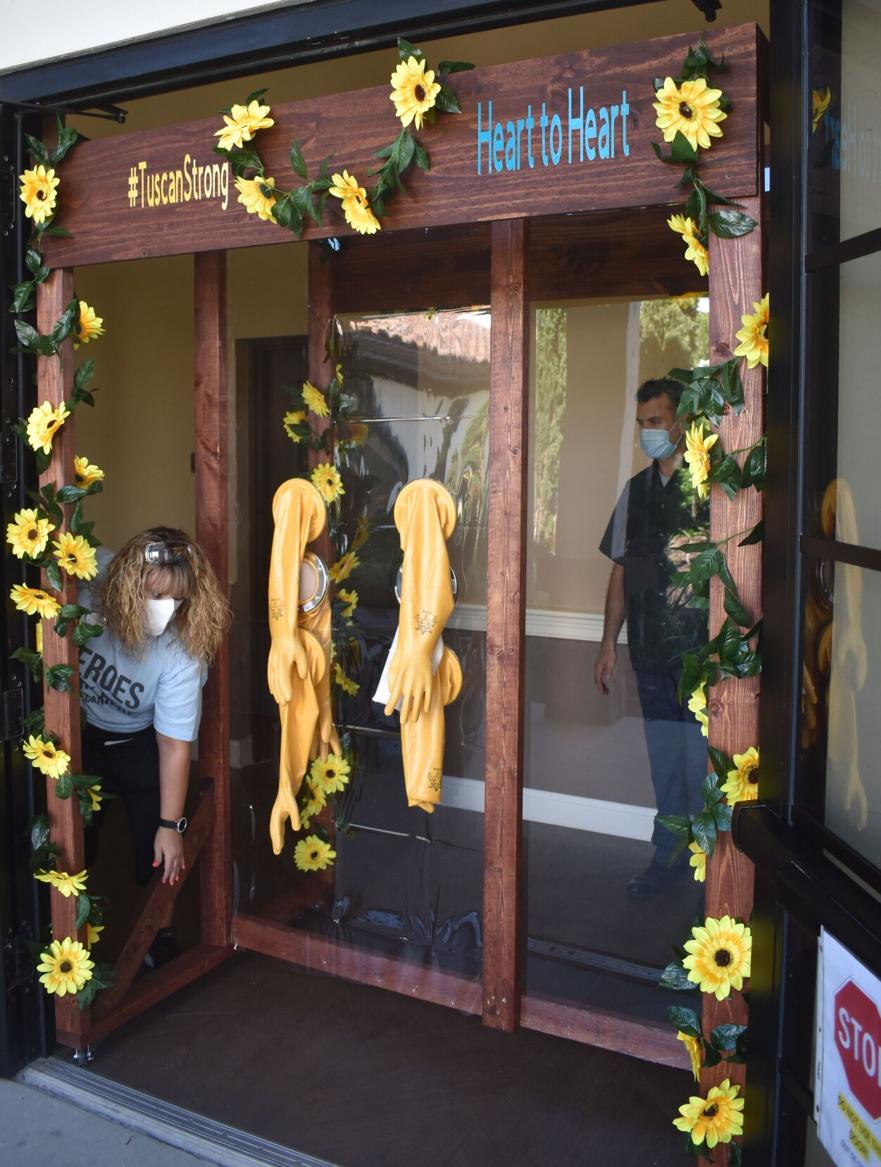 Raptis said it took the crew of Ray Robinson and Dani Gomez about a day and a half to build.
She said they added some words and flowers to make it feel "more upscale" and not just a wall.
"We just bedazzled it and made it more for a feel of Tuscan Gardens," Executive Director Ali Turner said. "It's been amazing."
'Brilliant idea'
The first to take part was Robyn Hidalgo, who was visiting her mother, Peggy Dunn.
"It's just a brilliant idea to be able to get you up close and to be able to touch your loved one," Hidalgo said. "I was just so grateful for the opportunity to hold my mom and squeeze her little face."
They have spoken often on the phone and visited — but this was different, Hidalgo said.
"We both had very tearful ... I was crying. ... It was just wonderful."
Peggy Dunn moved in just after Christmas with her husband.
She said the staff tries to keep spirits high at the facility by getting residents outside and singing, but COVID-19 has obviously upended much of life.
"It's getting old," she said.
To have the opportunity to share a physical moment with her daughter was hard to explain, she said.
"It was great," Dunn said. "I haven't hugged a person since the end of February, even though my daughter lives eight-tenths of a mile away."
She said she is looking forward to seeing her other daughter, Taryn McBreen, as well.
"It was such a good feeling to squeeze (Hidalgo)," she said. "It was really a great experience ... I can't explain how great that hug was. It was a great experience and I can't wait to hug my other daughter."
Turner noted it's going to be a part of Tuscan Gardens "for a while."
Officials will learn Sept. 5 where assisted living facilities stand in terms of any changes to opening up, at all, in what Turner called "the new normal." But there's no information on what, if any, changes will occur. Their main job is to keep residents and associates safe, she said.
"We're going to continue to use this even as they start to open things up because we'll have to maintain six-feet social distancing ... The Hug Wall will continue to be used as long as it's needed," she said.
'The art of touching'
Randi Green visited her mother, Renee Maltz, on Friday. Her mother has trouble with memory but being able to feel her hold her fingers meant a lot to Green.
"I haven't touched my mom since March 5 so it was really a moving experience," Green said.
Maltz has resided at Tuscan Gardens for about three years and the staff has "bent over backwards" for her, Green said.
But the spring and summer have been tough.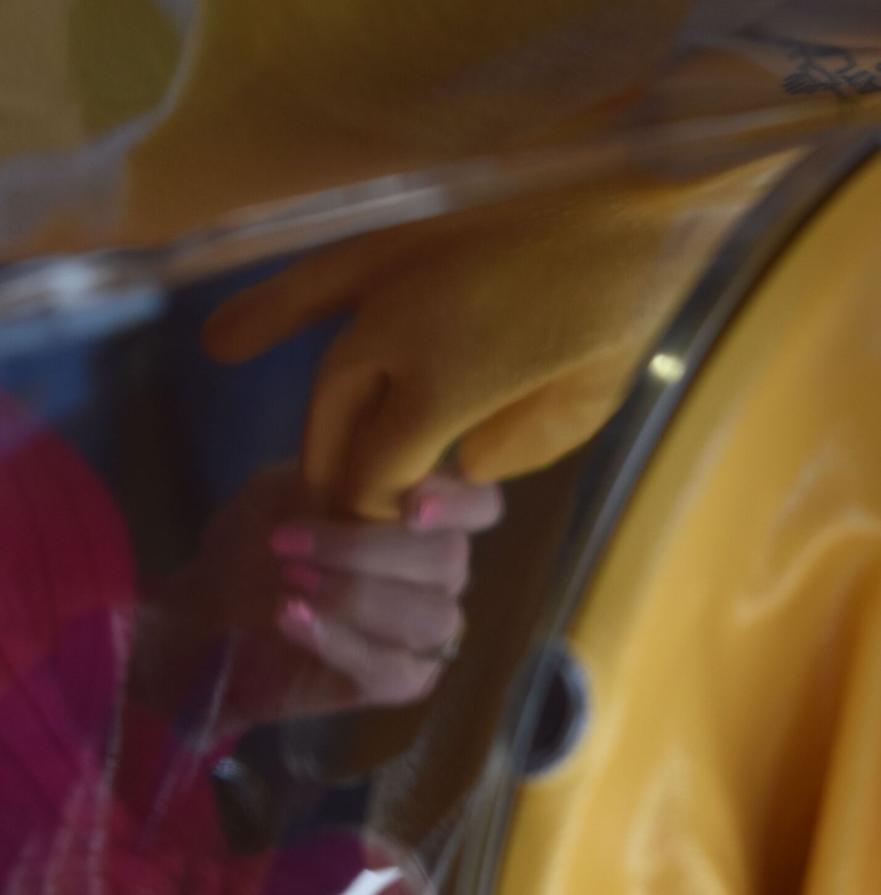 "I got to hold her hand ... Seeing her light up was absolutely priceless ... it was an amazing experience."
Green said she and her siblings Facetime her mother most days. She said talking through a glass window "doesn't do that much" — but holding her hand really meant something. She said she was thankful for the Tuscan Gardens employees.
"To be able to touch her is really moving," Green said.
She said there was an obvious difference once her mother started holding her fingers.
"What's better than the art of touching? That's the sweetest thing you can do. It's the first time she was really up."
Credit Tuscan Gardens
Family members appreciated what the facility has done through COVID-19, even though it has been difficult.
"It's very warm and very family oriented," Hidalgo said. "They are very in touch with the residents and their families. They are very welcoming ... Prior to COVID, they were very welcoming."
She said everyone is following the strict government protocols but the Hug Wall is another way Tuscan Gardens has tried to keep its residents and their loved ones engaged. Previously, they had car parades as a way to help avoid emotional decline in people who may feel, or be, isolated, Hidalgo said.
"But something like this (Hug Wall) gives us just that little bit of opportunity," she said. "I'm so grateful for their efforts."
Jon Roy concurred.
"It was nice. It was so nice," he said of the hug afterward, noting it is difficult for people in assisted living and nursing homes.
They are not in jail, he said, but if facilities aren't taking care of the people, it could maybe feel that way.
He is just hoping a cure is found soon.
"Everybody is just waiting for a vaccine," he said. "Hopefully, they give some priority to the assisted living centers — and the kids."
Robyn Hidalgo recalls thinking the virus would be under control in short order — and reassuring her mother of that.
"But then weeks and then months go by — and I realize that these little efforts that they're making to keep us near and dear to our families, well, it is so welcomed and appreciated," Hidalgo said. "I hope other places follow suit ... It's such a simple thing but it's huge."
Lisa Capasso, director of Community Relations at Tuscan Gardens, said they realized touch was needed.
"We're just grateful that we can provide something for our families that bring them joy," she said.
She and others had felt bad about the lack of touch — so that's why they wanted to do something about it.
"These families just want to grab their mom or their dad and hug them so much," she said. "We wanted them to have that connection."