VENICE — In 2019, the Myakka River District had 44 wildfires by May 14, but this year, there have been 76 and counting.
It's been a much drier year, said Florida Forestry spokesperson Patrick Mahoney.
"Last year, it rained and rained and rained," he said. "This year, the drought keeps going up."
Region firefighters stayed busy with brush fire after brush fire this week.
On Tuesday, they fought a large brush fire that burned about 78 acres off U.S. 17 in Charlotte County.
On Wednesday they battled flames that threatened several homes off Peace River Shores, with the help of Florida Forestry Service, the Charlotte County Sheriff's Office, and DeSoto County Fire.
It was followed Thursday by another 45-acre fire near Rotonda West.
No homes were lost in the fires.
Meanwhile, farther south, Interstate 75 was shut down at Alligator Alley in Collier County, with two large wildfires on either side of the interstate.
"Anything with heat or a spark, you just need to be very cautious with because it's not taking much to start fires right now," Mahoney said.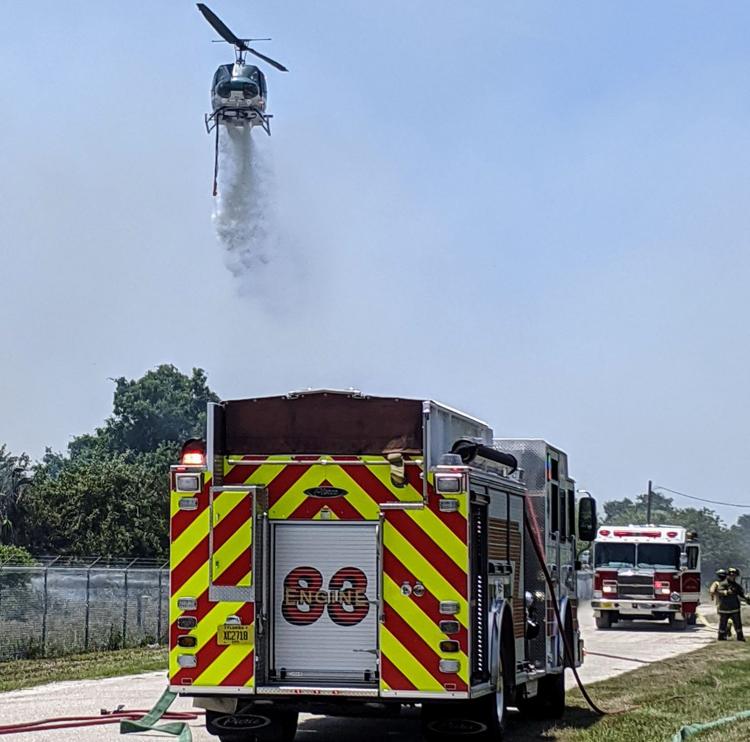 Drought indexes were 339 in Sarasota County, compared 422 in 2019; 550 in Charlotte County, compared to 204 last year; 396 in DeSoto County, compared to 256.
The drought index is on a scale of zero to 800, with higher numbers indicating less moisture on the ground.
"The dry weather, high winds and low humidity have made it the ideal condition for wildfires," Charlotte County Fire & EMS wrote on social media Thursday. "To quote Smokey Bear, 'Only you can prevent wildfires.'"
The agency reminded the public to avoid tossing cigarettes out of car windows. Two recent median fires could have been prevented with more caution.
"The good news is we prevented them from spreading and doing more damage," the agency said. "The bad news, it will cost to repair irrigation systems and install new plants."
Mahoney said this year, Sarasota County had 13 fires burn 50.4 acres, with campfires and children tied for the leading cause.
Charlotte County has had 23 wildfires burn a total of 343 acres, with the leading cause being recreational equipment.
DeSoto County had 12 fires burn 262.7 acres, mostly from unauthorized pile burns.
Mahoney said those staying home due to the coronavirus pandemic can use the time for fire prevention around their homes.
"With everybody staying home and doing the social distancing thing, now's a good time to make sure leaves, gutters, are all cleaned out," Mahoney said. "Make sure you have space behind your home. And anything that conducts heat or a spark, use extreme caution."