SARASOTA — About 1,100 area residents received COVID-19 vaccinations Thursday with another 1,800 scheduled to receive them today at Twin Lakes Park in Sarasota.
Sarasota County started the process this week with online scheduling of appointments for people as they signed up in a new online system. So far, about 67,000 registrations have taken place with about 40% of them being couples, Sarasota County Emergency Services Director Rich Collins said.
"The process today has been very smooth," Florida Department of Health Sarasota County Health Officer Chuck Henry said at the park on Thursday. "We have no reason to believe it won't continue to run very smooth."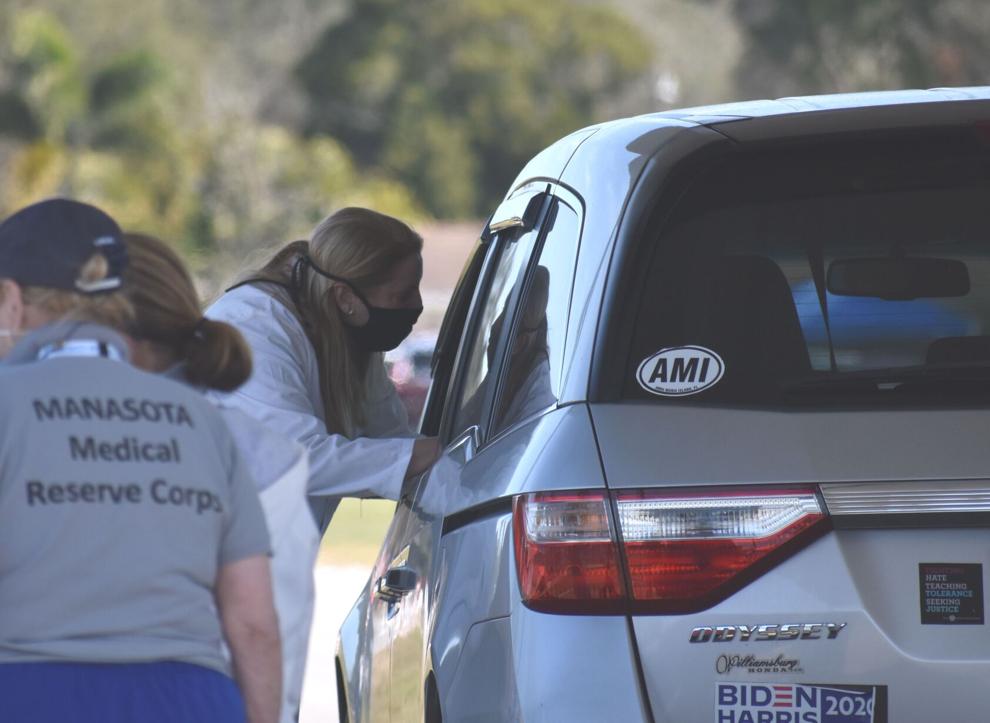 A few vehicles at a time weaved through the drives of the park off Clark Road, going through a few stops where their information was verified, shots were administered and then onto their final parking place — a 15-minute period to ensure they had no ill effects from the Moderna COVID-19 vaccine.
"We wanted the protection — we felt that it was a valuable thing for us to have," Nokomis resident Maria McCabe said. "It gives us more options for us to go out and about without that worry."
She and her husband, John McCabe, who live in Calusa Lakes, would eventually like to get back to New York City, where they are from. Neither has been back in the past year because of the pandemic.
"We'd like to do some traveling," John McCabe said.
They appreciated how smooth Thursday went for them.
"It went well," Maria McCabe said. "I couldn't get over how organized they were here. It was very well done."
Sarasota resident Katherine Bricker agreed, being surprised by the drive-through event.
"Today was fantastic. There was no problem at all," she said. "We were worried that we were going to have to wait in line. We made sure that our tank was full just in case. But it went just unbelievably well."
For Bricker, her daughter in Kansas City, Kansas, helped sign her up online Wednesday. She was surprised when she received the call for her Thursday afternoon appointment.
"Just like that, we were signed up," Bricker said.
To sign up for the Sarasota County list, call 941-861-8297 or go online at bit.ly/VAX941
Signing up wasn't without needing patience. The wait time was about 49 minutes on Thursday. Through noon Thursday, they'd had 2,500 phone calls coupled with the 3,600-plus calls Wednesday.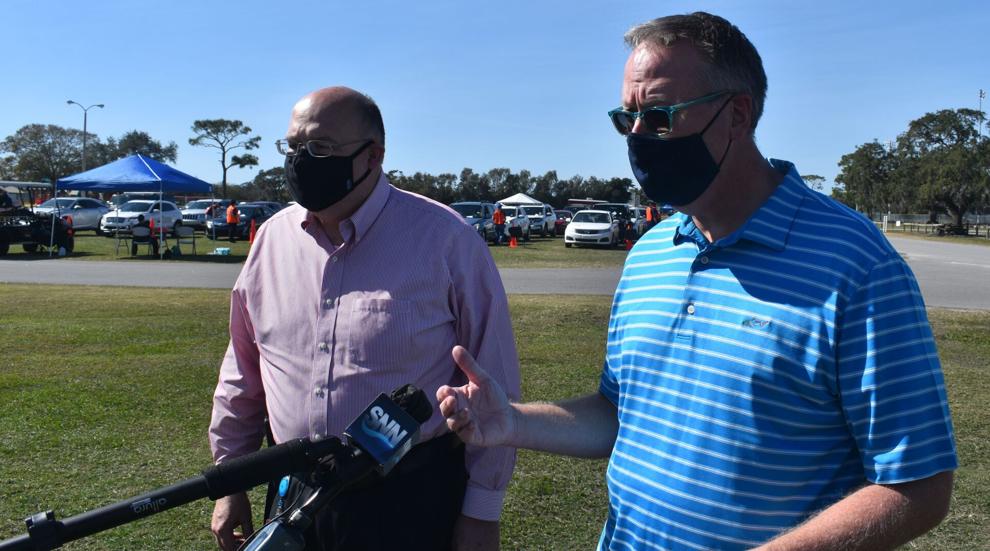 "It's a new system. There were questions on the questions registration," Collins said. "We sent out confirmations via email … Some emails have gone into spam or trash bins so they may not have seen it that way."
Residents have the choice to be notified via text, phone or email.
"So far, it's working. A few little bumps along the way, but overall it's working very well," Collins said.
Vaccine appointments are in one-hour increments throughout the day.
"This is every hand on deck to help our citizens through this process so that we can — as the vaccine becomes available — get them into the here and get them taken care of queue here and get them taken care of," Henry said.
And while Twin Lakes Park is the place for now, it may not be the place forever for vaccinations.
"We're looking around at other options around the community," Henry said.
But a central location is best for now.
"We understand the travel distances," he said. "We'd like to get a site established where we could be seven days a week as the state increases the volume of vaccine and is able to support the vaccine — we'd like to be able to do vaccines seven days a week in one central place."
Henry hopes for eventual "pop-up vaccinations" locations "to better serve our citizens."
Officials are in a situation where they are being told to watch out for vaccine tourism, noting Gov. Ron DeSantis wants only Florida residents and part-time residents receiving the shot in the state.
"If they're here part-year and don't have a Florida driver's license, we ask about their situation and what's going on," Collins said. "It's pretty straight-forward."

This week, Sarasota County has about 3,300 in its allotment. Any leftover doses will go to health care workers, officials said. They don't have a number on how much will be in their next allotment.
"On Monday, we'll be back at pause waiting for additional vaccines," Henry said. "I should hear at the end of this week what my allotment will be for next week so we will plan those vaccine clinics as well."
And there is an expectation that the federal government is going to push forward, Henry said.
"Part of that strategy is bringing on some new manufacturing capability to bring the numbers up — so I do expect that to happen but it's probably not going to happen tomorrow," he said. "We'll probably continue about the same pace until more vaccines are in the area."
So far, 26,000 doses have been given across the community between the health department and regional hospitals, officials noted. Those receiving it Thursday were happy to do so, knowing the reality isn't going away anytime soon.
"It just seems like the thing to do to be healthy," Bricker said. "But we're not going to do anything different. We're still going to wear masks; we're still going to stay 6 feet away; we're still going to not be in crowds. Our generation will probably always be that way,"
The next generation may get used to crowds again, Bricker said.
"I don't think our generation ever will."