There's no other way to explain how drips of multicolored paint, suspended on a shimmering tray of water, can lift off in marbleized swirls, stylized hibiscus blossoms and soaring feathered dragons.
The fluid art of marbling is both meditative and as arcane as sorcery.
Called suminagashi ("ink floating"), marbling was practiced as early as the 12th century by Japanese Shinto priests who created feathery swirls by dropping colored inks on water, then blowing gently on the surface with a straw to produce smoke-like designs.
In the 15th century, ebru ("cloud painting") appeared in Turkey. Instead of floating inks on water, they used paints and added a thickening agent to the water. After dropping the paint onto its surface, they used a stylus, feather or comb to create patterns which they then transferred to paper or fabric.
By the 17th century, bookbinders across Europe were producing their own marbled endpapers. Few others understood the art, and marbling became a secret closely guarded by marbling guild masters.
Today, the secret's yours.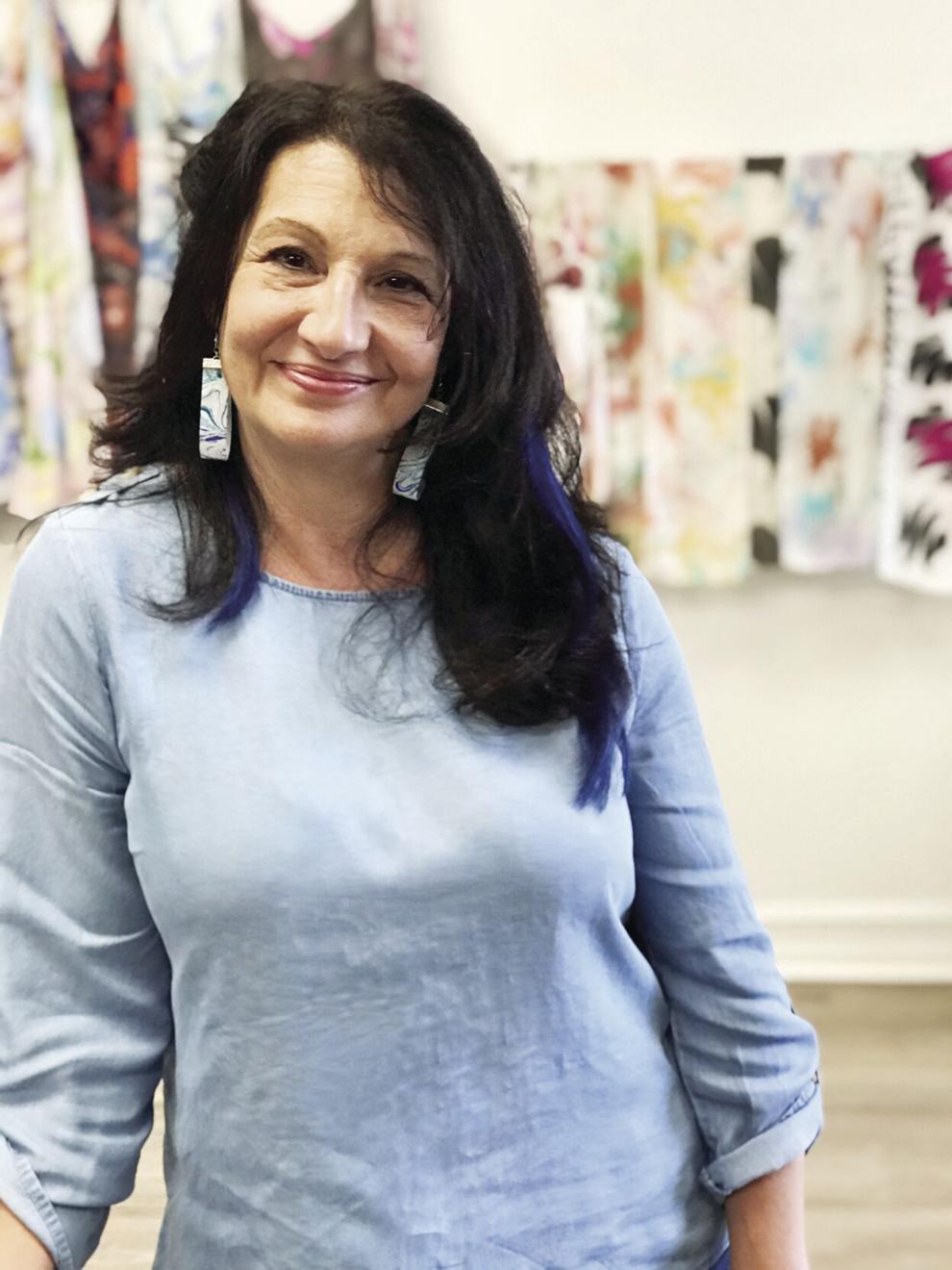 Meditative Magic in Venice
"It's having a renaissance," said Aqua Silks Studio owner Susan MacDougall. "Marbling's a little bit of magic and a whole lot of fun."
A registered nurse by profession, MacDougall also has an irrepressibly wild creative side that has embraced everything from poetry to flower arranging. Marbling became another creative outlet for her home studio experimentations.
Today, she describes herself as a "one-man band" in the three-month-old Aqua Silks Studio.
She comes from a family of entrepreneurs who'll soon occupy a different kind of footprint not far from hers. Her brothers, restaurateurs David and Dennis Valentino, recently broke ground on Venice Island for their latest Prime Serious Steak.
MacDougall said of her family's restaurant life, "I've cooked. I've waited tables. I make my mother's tiramisu recipe. But I have my own passion, and this is my latest expression of it. I'd always dreamed of having my own business.
"My thing is working with people. A nurse's interactions can be very sad and stressful, but this creative outlet is pure joy. Now I get to have fun showing people something different and new."
Make Your Own Custom Design
In a typical Aqua Silks appointment, you'll step into the jazz-filled studio, stow your belongings, wear a mask and put on a full apron provided to protect you from stray paint spatters.
While reviewing the history of marbling and the sequence of events in class, MacDougall will tell you, "Put down work. Put down scary. Come here for a little while, bring your inner five-year-old and pick up joy.
"We aren't here just to make scarves to take home, though you will do that. It's about the experience. I want you to play with my paints, laugh, interact and have lots of fun. It can also be very Zen.
"Don't worry. You can't get it wrong. I know lots of tricks and can fix anything, but this is art and you really can't mess it up."
A complete demo comes first. Then students put on their aprons, place as few as three and as many as seven acrylic paint colors on their individual rolling carts, and set to work.
MacDougall preps the session, setting the surface tension in each wooden work tray by lightly drawing a sheet of paper across the aqueous mix that allows paints to sit on the surface and not run together.
Throughout, MacDougall cheer leads each creation, clapping her hands and squealing in delight, providing advice and help as needed.
First, set your choice of base color. As it rolls across the tray, you'll understand why the Turks called this "cloud painting."
Holding the paint bottle 6 to 8 inches above the surface, let one drop at a time fall to the water, separately or concentrically, without breaking the surface.
Every drop spreads, pushing all the other drops dispersed in the tray, organically changing the whole picture.
You can stop and capture your initial design—the "Turkish stone" pattern formed by circles of different colors. Or you can experience the meditation of manipulating the paint with a stylus and rakes.
Lightly draw the stylus through the center of the circles and blossom-like hearts emerge, from which you can also pull swooping tendrils. At this point, too, you can stop and capture your creation or continue freestyle doodling.
Or you can go on and glide one or more of MacDougall's tray-width rakes slowly through the entire design, first one way and then crossways. This creates classic, feathery marbling. The more teeth in the rake, the finer the feathers.
You can rake different sections differently. Or bring the stylus back to detail different sections of the design.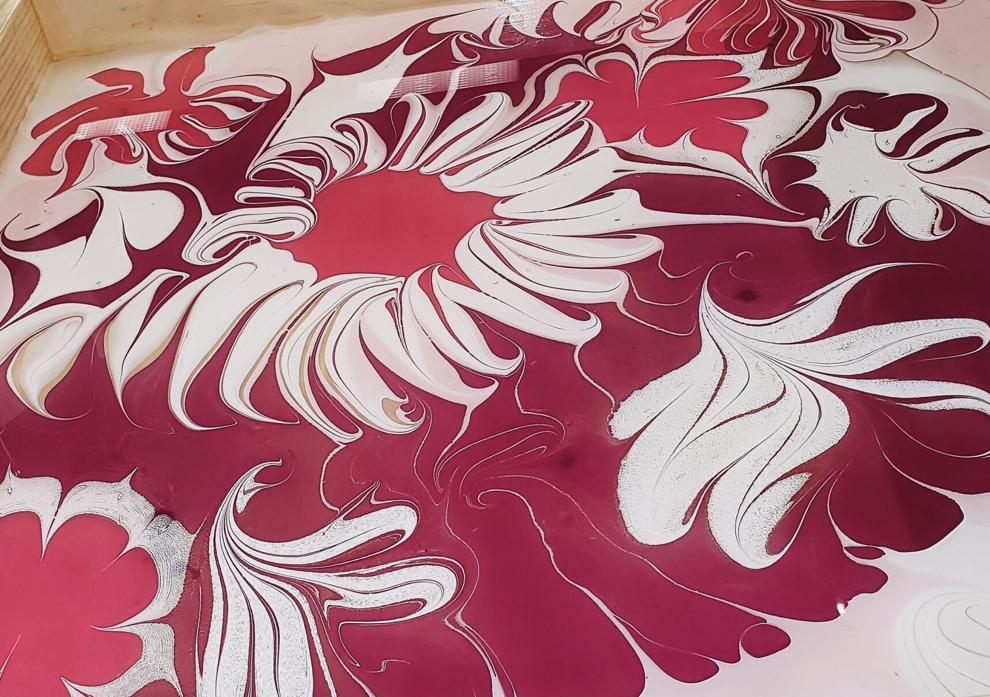 It's your work, all up to you.
Once you're satisfied with your creation, it's time to print—on silk, cotton or paper—by gently laying the material on top, stretching it out like a bedsheet, then lifting off the whole design, magically leaving behind nothing but clear water.
The beautiful finished product gets dumped unceremoniously but safely into a water bucket, then wrapped in a watertight plastic bag to take home with a set of instructions for preserving the silk's colorfastness.