Englewood resident Diana Harris never imagined being a historical writer for the local newspaper, let alone working for any part of the media, after moving here from New York City.
For more than 40 years, Harris has worked work as a historical writer for the Englewood Sun and Daily Sun newspapers, while also keeping busy writing two different books.(one of which is not yet published) on Englewood history. From the comfort of her home on Parker Drive, Harris reflected on life and her past accomplishments.
Harris was born on December 24, 1933, in Texas, growing up as the country began its slow recovery from the Great Depression. She recalls fond memories of childhood life as a small town Texas girl, her father working hard to provide for the family. His personal integrity and admirable human qualities endeared him to friends and neighbors alike.
"My father was a doctor in a very small south Texas town near farms and ranches," she said. "I remember one day, a man and woman came to our front yard and told my father they were short on money and offered fresh cabbages from their farm as payment. I was standing right next to him holding his hand and I remember how surprised I was when my father got very excited about the fresh cabbages."
Since her father passed when she was six, Harris and her mother moved several times to cope with the economic conditions of the time. Harris said her mother was highly educated in the field of education, but it was most difficult for a single female parent at that time. She recalls her mother's unwavering devotion to being a hard-working mother, determined to finish her PhD at a top university.
"WWII came along and suddenly jobs were open that had not been available to women," Harris said. "My mother got a position as a professor at LSU in Baton Rouge, so we moved there. So after a couple of years, we moved to New York City where she did finish her PhD at Columbia University. Eventually, I attended what became the famous Horace Mann Lincoln Progressive Educational School of Columbia's Teachers College."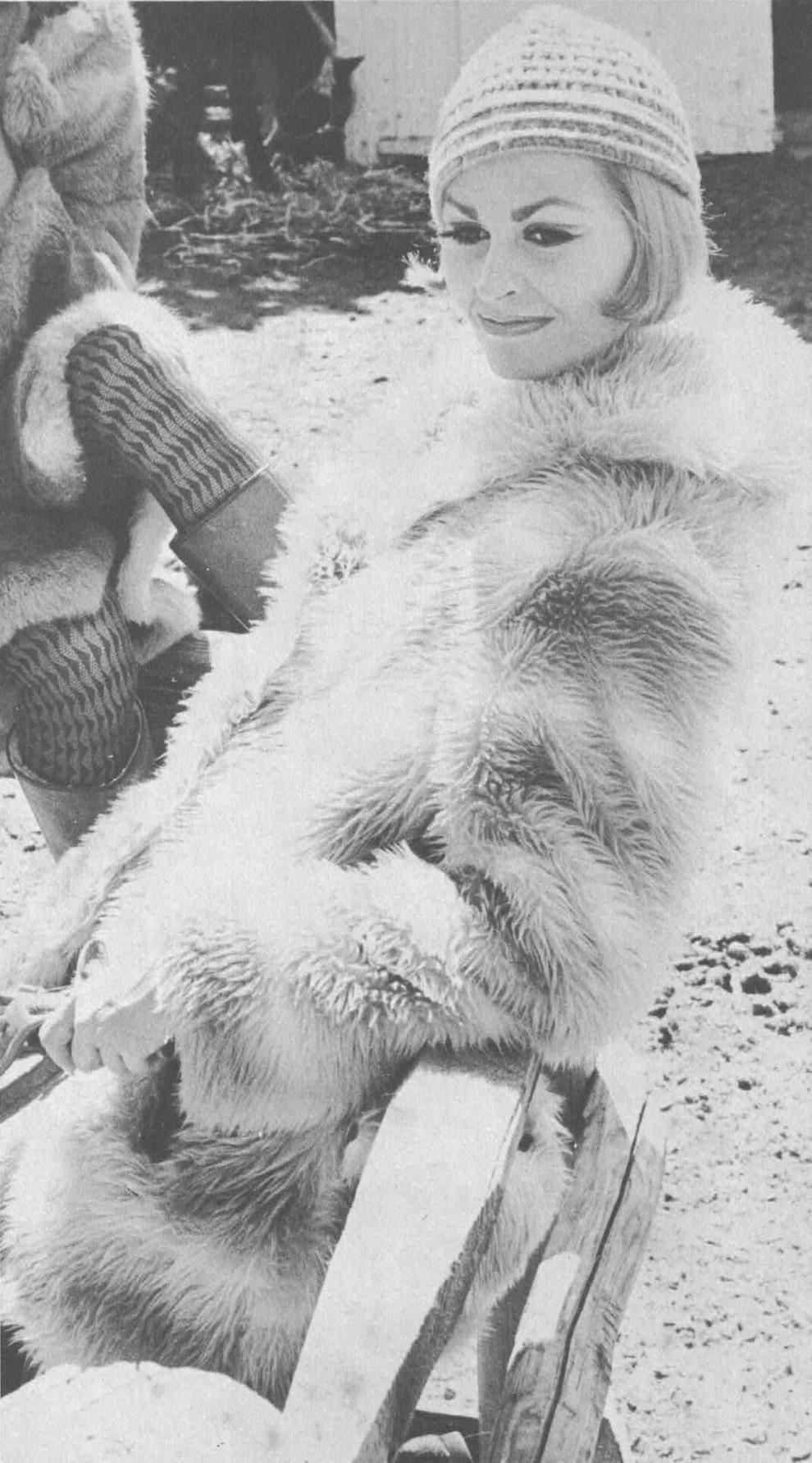 From Runways to Cow Pastures
Harris' started a new chapter of her life in the 1960s—a modeling career in New York City, working through her 30s for many of the top designers of the day and traveling to many photography locations throughout her career.
She said one of the last most interesting jobs as a model was her involvement in fashion shows at the New York World's Fair at the Better Living Center in the mid-60s, performing in six shows every day while featuring all top American designers.
"We did small private shows for such people as the then-president of Mexico and his wife, the Shah of Iran and his wife," Harris said. "We met the Beatles, Liberace, Sammy Davis Jr., Louis Armstrong and among others."
In 1963, she visited the Vanderbilt's Cape Haze ranch, an area that is now Rotunda, for a photoshoot. Harris remembers the assignment, wearing "a collection of clothes, skirts, jackets and coats" made out of vinyl fabric designed to imitate the appearance of leather.
"As ugly as it was, it was very popular in the 1960s," she said. "The material had patterns on them that resembled spotted markings of Hereford cattle."
Only problem? The cattle at the ranch didn't have spots.
"I can remember the ranch guide staring at us all as if we were a bunch of crazed city slickers," she said. "The photographer and his assistants finally calmed down, and the photos were taken…We then packed up and returned to New York where the photos of the cattle were airbrushed to make them look as if they had spots."
While at the ranch, Harris met Leah Lasbury, a prominent realtor who made a convincing offer that she could not refuse: purchasing a historic cottage from the late 1920s as a vacation home. The house was dubbed the "Derelict House," also known as the "Shipwreck House."
"I was looking at this place and thinking to myself it's got to have some history on it and someone in this town has to know a lot about it," she said.
Back in NYC, Harris eventually became a buyer for the Lord & Taylor department store chain and developed a newfound interest in learning about the history of the Shipwreck House.
Harris retired and moved to her Englewood vacation home full-time in 1979. "I met Sam Harris when I moved permanently to Englewood, and we were married for 30 years," she said. "He was retired military, serving in the Air Force for 30 years and was a fighter pilot who served in World War II, Korea and Vietnam. Photography had been a lifelong hobby for Sam, and on retirement he developed a very successful aerial photography business, and was quite well known in the area."
She took a job as a wine buyer for a liquor store in Venice. While buying and learning about her home's history in her spare time, Harris developed an interest in writing and sought out local newspapers that featured wine columns. Only there were none. So she reached out to the Venice Gondolier about writing a column about wine. "When asked if I was a writer, I said no but I know about wine. So that is how I got into writing, and they accepted the fact that I was not a professional writer and took my background as a wine buyer in consideration."
The Englewood Sun took notice of her work and offered her a position to write for their paper. "When the paper ceased printing a food section, I was then asked to write a column for the Englewood paper, but there was a question as to what subject," Harris said. "I mentioned I was rather busy researching the history of my interesting 1920's house. Next thing you know, they said, 'You can write about history.'"
At this time Harris was still busy learning about Englewood and the surrounding community and discovered that not a single book on Englewood history was on the shelves of bookstores or in libraries. So instead, she began connecting with longtime residents and neighbors while learning of the early days of Englewood's past.
Among her first stories was the history of her home, the Shipwreck House, which was constructed of old ship's timbers, the circular bedroom made of planks from a ship's water tank. According to Harris, among the previous owners was Mary Buchanan, an opera singer who had insomnia and was known among her longtime neighbors for spending countless evening hours practicing her singing. In her book, Englewood Lives, she writes that residents would sometimes wake up in the middle of the night hearing a soprano voice singing the scales.
'That's where a good story comes from'
Many stories have since followed the Shipwreck House. From stories about Englewood pioneers and speculators to the world-famous Daredevil performer Suicide Simon, known as the "Human Firecracker," Harris was amazed by the positive reception of her work.
"The success of my columns come from the fact that I actually went and talked to people to get their story of life in Englewood," she said. "Oral history is what I find intriguing the most. Second hand history isn't always perfect, but if you talk to someone that's lived long and you study their story as far back as you can, that's where a good story comes from."
Looking back, Harris said that being a historian has shown her that Englewood has a life larger than it appears, founded on integrity, hard work and a little rough fun that manifested itself into a thriving community of fellowship and unity. She believes the study of its history is vital and relevant to readers in the modern era, to fully experience the Southwest Florida lifestyle.
To learn about Englewood history, Harris' book, Englewood Lives, can be purchased at The Englewood Chamber of Commerce, The Country Hound Cafe in Englewood, Copperfish Books in Punta Gorda and on Amazon.