A fresh look with spring bedding
Is there a better feeling than crawling into a freshly laundered and made-up bed? Sinking into a feather-soft duvet, slipping between crisp, cool sheets and lounging on a firm but forgiving mattress is truly what sweet dreams are made of. Can I be honest with you, dear reader? Going to bed is my most favorite time of day.
This is the prime time of the year to bring a fresh look to your home, and of course, this includes the bedroom. Our lovely bedding experts have been busy switching looks out and imparting a few tips and tricks to the perfect spring bed.
I love everything about a neutral bedroom. Playing with light tans, creams and whites is both soothing and interesting. You don't need a rainbow of color to showcase a creative and fun personality. This ready-made oversized floral duvet and pillow pairs perfectly with a variety of custom pillows and features some of my favorite textiles and trims.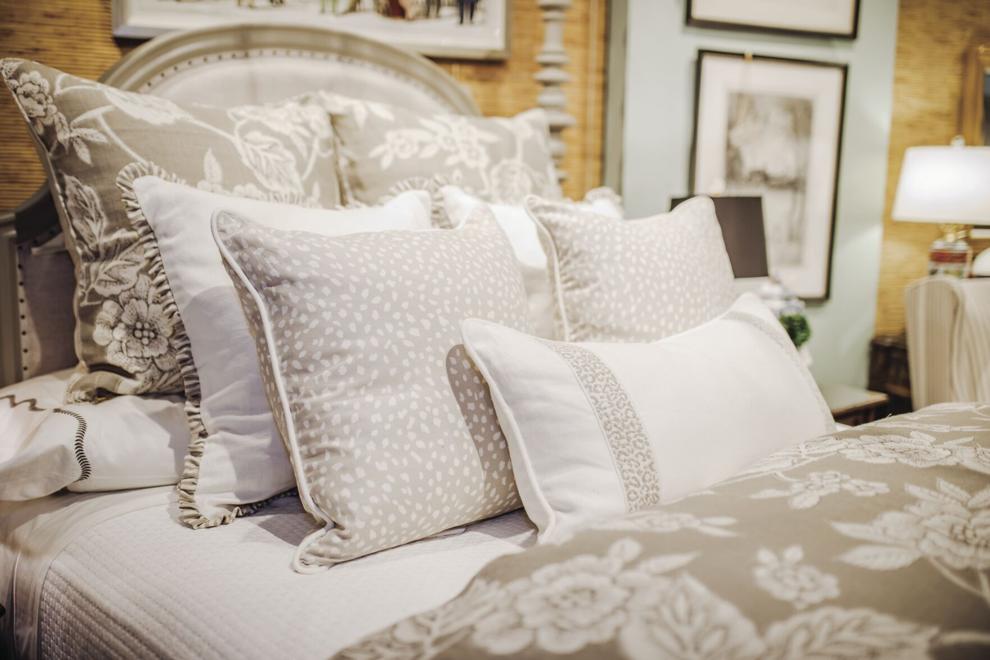 When it comes to accent pillows, I am always looking for rooms in which to put fawn fabric. With its wild yet delicate pattern, it truly is an element perfect for any space. Adding in fan-favorite leopard tape on the white front accent pillow and edging the white linen in a beautiful tan ruffle adds depth and interest to the bed without sacrificing the color scheme.
Just like your favorite jeans, this dark wash denim look never goes out of style. Navies and denims can be paired with a plethora of colors and patterns—there really is no way to pair them wrong. The colors' versatility also carries looks through the seasons, perfect for warming up in the winter and brightening up in the spring. For this current look, we added fresh spring green in peppy patterns to offer a pop of energy.
This blue, white and tan duvet is perfect for pairing with our favorite fawn textile. A neutral color scheme with a twist of color makes this bedding timeless and classic. The embroidered fabric is a great way to tiptoe into incorporating textured embroidery into your room. Embroidered fabrics can be overwhelming, especially when used on such a large surface area, so it can compete with other bold patterns in a space. However, this large-scale pattern is perfect for mixing, as it plays well with others without being a solid.
Adapted from nellhills.com. Katie Laughridge is the owner of Kansas City interior design destination Nell Hill's. For more information, contact Katie at info@nellhills.com.