I was sitting at a bench alongside the pavilions at Laishley Park. It was November 30, 6 p.m. The following day temperatures would drop and we would have our first two-day "winter" of the season. On this night it was 67 degrees and very breezy. I was dressed in jeans and a light sweater and had a jacket with me just in case I got cold. I'm a Florida girl, after all—an admitted wimp.
Under the pavilion, seven women in leggings, t-shirts and tank tops, several with zip-ups or sweatshirts over top to protect against the chill, were getting ready to sweat. And personal trainer Shombre Ricketts of Hyper4Mance Inc. stood by ready to make that happen. It was boot camp time.
He had invited me to join in, but taking notes for a story while doing burpees is challenging, so I decided to just observe.
"Alright, ladies," Ricketts yelled out. "Let's get warmed up." He then proceeded to go over their warm-up, demonstrating each move: a short sprint down the pavilion and back, burpees, switch lunges, shoulder taps and hop ins … two of each, then three of each and continuing right up to six of each.
"Wow, that's an intense warm-up!" I thought, bouncing my legs to try and stay warm.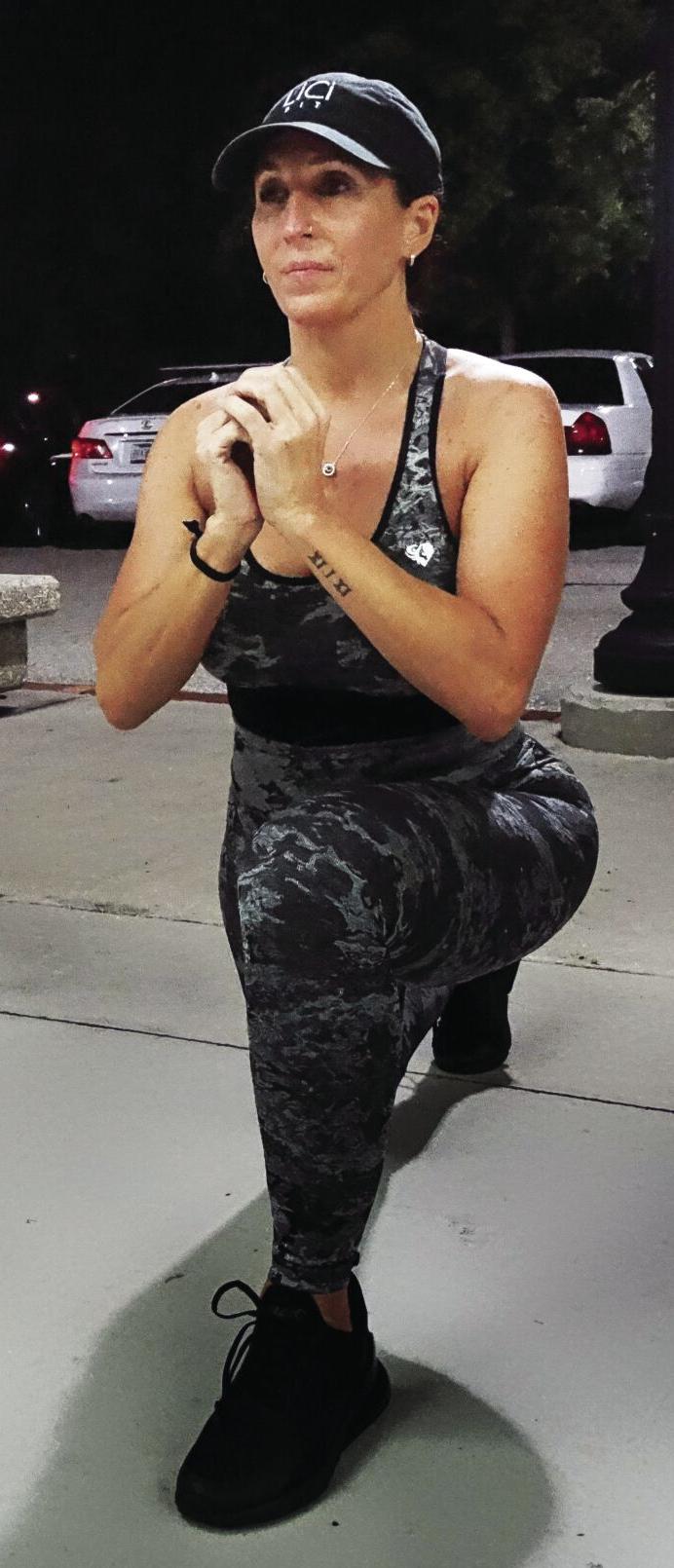 Ricketts turned on some music and started dancing. He blew a whistle, and they were off!
As I sat there watching these ladies hustle their warm up, Ricketts shouting out, "Pick it up, pick it up!" as they ran, jumped, lunged and hopped, I bundled up in my jacket.
The warm-up over, Gina Legreca exclaimed, "I can't breathe!" as she tore off her sweatshirt and stumbled over to grab her water bottle. I may have been cold, but Legreca and the rest of the women attending Rickett's Monday night boot camp were nice and warm and ready to get to work.
According to active.com, group classes offer numerous benefits, especially for those just starting out on their fitness journey who may feel a bit overwhelmed by what exactly to do:
First and foremost, group exercise like Rickett's boot camps, offer excellent motivation. Just when you feel like a workout is getting too hard and you want to give up, you can look around and see everyone else suffering alongside you.
"The motivation that's there is unreal. You can't get that same motivation working out by yourself," Ricketts said of his boot camp workouts and group workouts in general. "When you're in a group setting, [the motivation] is natural, it's not forced.
"You don't feel like you're dying alone" he laughed.
That motivation was obvious as Rickett's trainees neared the end of their first circuit: four rounds of 10 lunge lifts on each leg, 15 sumo squats, 10 spider planks (on each side) and 15 high knees (also on each side). As the third round wrapped up, he yelled out "Last round! Are you ready?" Several of the girls yelled out "No!" But none of them quit. They kept with it, using each other as motivation, suffering through it together.
Group workouts also help with long-term motivation when it comes to actually sticking to an exercise routine. You start feeling accountable to the group, making it more likely that you'll continue to show up week after week. And, of course, there's the camaraderie … your fellow sufferers become your friends.
Group fitness also offers structure for those who may not be quite sure what exactly to do in a workout and it ensures you will be doing all of the moves properly so you don't wind up with an injury. When it comes to fitness, proper form is key.
Ricketts hasn't always offered outdoor boot camps as part of his personal training business. Like many small business owners and entrepreneurs, his business model evolved thanks to COVID-19.
During Florida's Safer at Home order, Ricketts had to get creative in order to continue working with his individual clients. He could no longer go to them, or vice versa, for training sessions. Like so many of us did during that time, he turned to technology to get by, training clients through FaceTime or recording online training sessions for them to do in their own homes. He came up with a hashtag to help encourage his clients to remain accountable, #h4tapin.
"It was holding everyone accountable," he said. "I'd post my work out for the day and then tag 10-12 people and then they have to tag me back with their workout. And that's kind of how we kept the energy going over quarantine."
Once the Safer at Home order expired, he started working out with clients one on one again … in person but predominantly outdoors in order to keep both himself and his clients safe and healthy. Then Legreca and a few other clients asked if he had ever considered doing a boot camp as they had friends who were interested in attending one. "So I ended up starting one and everyone loved it," he said.
Ricketts has hosted his boot camp in Punta Gorda's Laishley Park every Monday and Friday at 6 p.m. since June. Currently, in the dead of Florida winter when it gets dark entirely too early, they stay under the lighted pavilions, but during the rest of the year, he enjoys taking advantage of the whole park when planning the workouts. Altogether, he said about 18-20 women regularly attend each week between Monday and Friday. The workouts are mainly lower-body based, but he always throws in some upper body and core work. And, of course, "there's always a lot of cardio with it." Classes are $10 each and there's no need to pre-register. Just show up and join in the fun!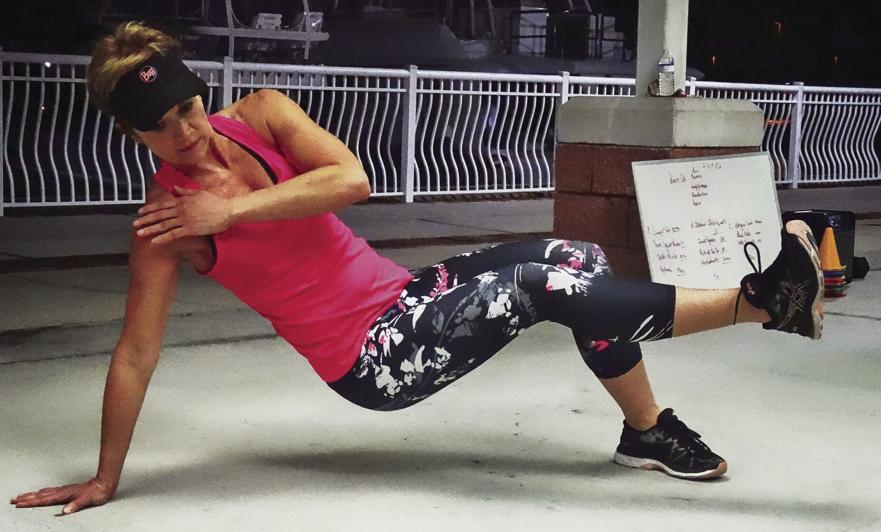 Don't think boot camp sounds like fun? Kat Wilson, a boot camp regular who has been training with Ricketts for six years, assures me that he makes it fun. "I call him the entertrainer," she said, because he's always dancing around, making jokes and keeping the overall mood of the classes lighthearted and easy going.
Ricketts' boot camps also led him to offering a 30-day Challenge program consisting of a meal plan with shopping list and 30 days of workouts. The challenge is $75 for the full 30 days, and you can find information about it and his other training options www.hyper4mance.com/programs.
But what if you're truly just starting out on your road to exercise and working out and you don't think you're up to an intense fitness class or program just yet? Ricketts offered some tips.
First and foremost, start slow. "There's never a rush when it comes to fitness," he said. "Be perfect [in your form] and be safe." Focusing on proper form with each movement you do will help prevent a painful, and possibly long lasting, injury.
Ricketts says to start out with total body workouts for at least a week "to get the muscles firing and get your body warmed up before you jump into something too strenuous for your body or your joints." He suggests basic moves like simple squats and side lunges. He said side lunges are great because "they give you a little more hip mobility and 'if you don't use it, you lose it' so you want to regain as much mobility as possible in those early workouts."
He also recommends simple sit-ups, planks and push-ups, "but, as low as you can [for the push-ups], that's the key for shoulder mobility." And yes, doing push-ups on your knees is absolutely okay. As someone who has never done a push-up on her feet in her life, I felt that needed to be asked. If doing push-ups on your knees allows you to get all the way down to the ground, that's what matters.
And if you're finding it hard to motivate yourself to work out on your own, don't forget that there's a spot waiting for you every Monday and Friday at Laishley Park. And you don't have to worry that you won't be able to keep up and get it done.
"I try and lead [the group] at a certain pace, but it's really a 'go at your own pace' kind of thing," Ricketts assured. "I have many different fitness levels there, and I never want anyone to feel like they can't finish. Because you can finish."