With nearly 20 shops and boutiques, eight restaurants, two coffee shops and live music day and night, West Dearborn Street is a destination worth visiting any day of the week. And take it from me, you'll certainly need more than a day to actually get the full experience—especially if you get to chatting with all the friendly and inviting locals you meet along the way.
Breakfast with the Town Council
My day on West Dearborn started, as any day should—with coffee. I grabbed my cup o' joe at Joe Maxx Coffee Company, where at least a half dozen older gentlemen were sitting on the patio having a highly spirited conversation about whatever the topic of the day was. More on them in a bit.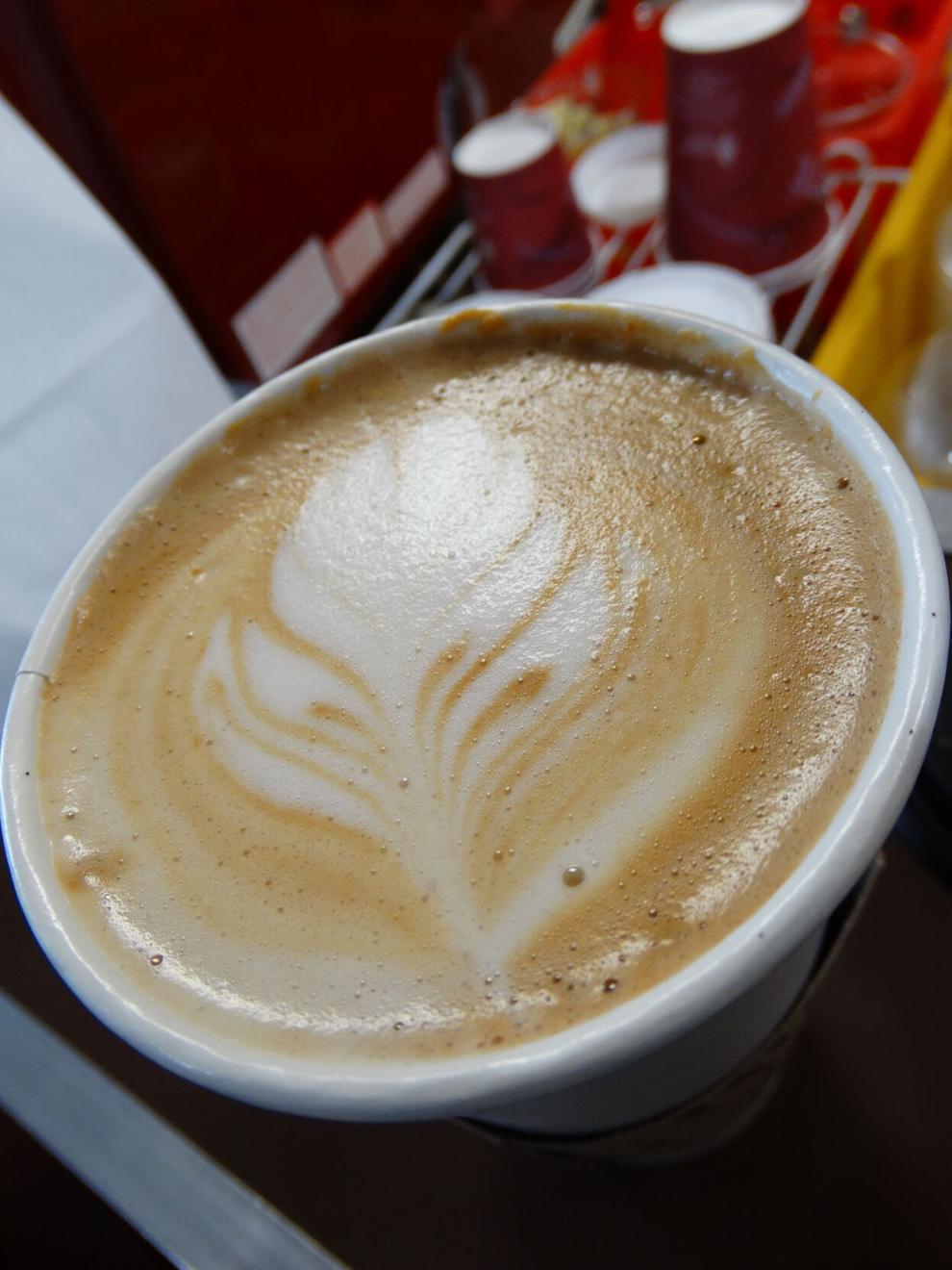 I headed inside for some coffee and a light breakfast (ham, egg and pepper jack cheese on an English muffin). I'm generally a basic drip coffee drinker, but after checking out the menu, I had to try the Black & Tan—a mocha steamed with creamy peanut butter. That's right, peanut butter. In coffee. I was not disappointed!
While enjoying my peanut butter coffee, I chatted with owner John Watson in the very brief seconds of downtime he had between customers. It was a Monday morning after all, and people needed their caffeine. I remarked on how impressed I was by the unique coffee concoction in my hand and asked what other goodies his regulars ordered. He said that aside from their ever-popular drip coffee, the White & Dirty (sweet vanilla latte steamed with a dash of zesty ground cinnamon) is a "popular bridge for people who are hesitant to try a latte." For non-coffee types, he also carries locally and organically grown herbal tea from Lemon Bay Organics.
My coffee gone, I headed outside to chat with the gentlemen out front, who jokingly refer to themselves as "The Englewood Town Council." I told them I was exploring West Dearborn and they were quick to share there is live music on any given day or night. They suggested I stick around until that evening to check out open mic night at Life Realized, one of the most popular nights in town, they said. (It was quickly added to my list of things to check out on a day—or in this case night—I didn't have mom duties.)
Above all, they said, Englewood is friendly and helpful. One gentleman told me he has heard more than a few northern visitors come to Englewood and say, "People actually say 'hello' here!" He then added that people here like to have fun. "There's a saying that Englewood is a drinking town with a fishing problem." They all laughed in agreement.
West Dearborn Street has no shortage of shops and boutiques to explore. Throughout the day I couldn't help but thinking it would make for a fun Girls Day Out.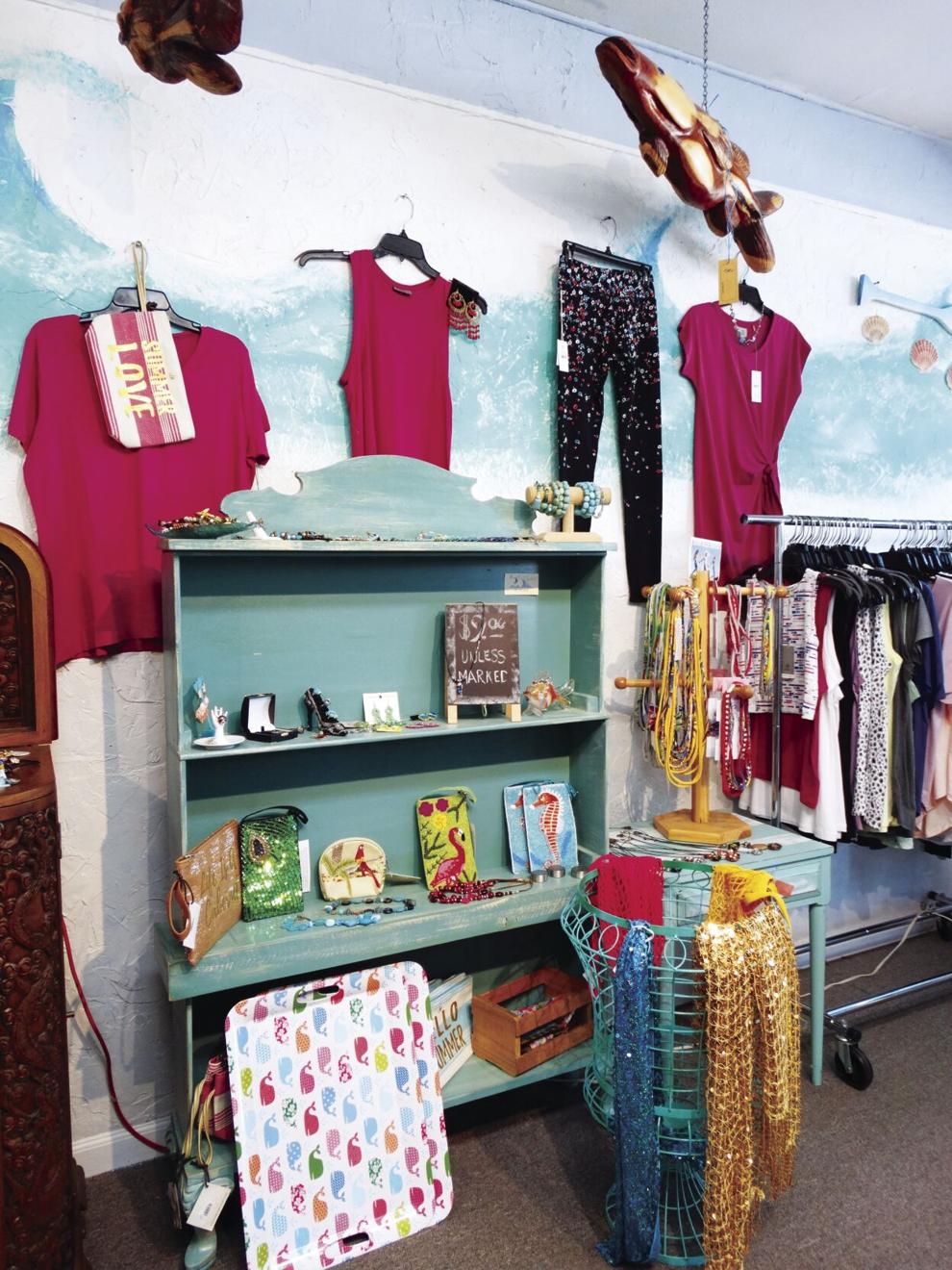 I wandered into Off the Wave, which features an eclectic mix of both men's and women's apparel, jewelry, handbags, home goods and refurbished furniture. My eyes were drawn to a line of shirts made from recycled plastic bottles, aptly named Dumpster Diver by the 30A Company, a Florida lifestyle brand. This line of shirts has kept nearly 3 million plastic bottles out of our landfills and waterways, according to the company's website. Gotta love it when fashion meets conservation!
Owner Brad Pike pointed out a beautiful distressed chest handpainted by local artist Ernesto. "I carry a lot of his work here," he said. "I just don't have much right now because it all keeps selling too fast!" He did manage to find a gorgeous peacock Ernesto had painted on one of the Dumpster Diver shirts and told me to make sure and check out the mermaid mural at the end of the block, also Ernesto's work.
I headed across the street to Ivy's on Dearborn, a women's boutique featuring lines like Oh My Gauze! (Ivy's is the exclusive distributor for the area); Zen Knits; La Mer Luxe, a resort wear line that donates a portion of profits directly to coral reef protection; and Tagua, fair trade and sustainable jewelry handcrafted by Ecuadorian artisans. Owner Karen Tyree said it's important to her to carry fair trade and sustainable brands whenever possible. A display case of beaded jewelry caught my eye—an exclusive line of jewelry created by local artist Jay Rossi just for Ivy's. I made myself a mental note to come back the next time I needed to buy a present for one of my girlfriends. Or maybe even for myself.
While browsing through her extensive collection of Oh My Gauze!, I asked Tyree how business has been over the past year because of the pandemic. She said that like many businesses, they've really had to think outside of the box because many regular customers still feel uncomfortable going out in public. Her solution has been to host private, after-hours Sip & Shop parties, where customers can come in with a few friends after regular hours to enjoy a personal shopping experience … with wine and hors d'oeuvres. "Karen basically becomes your personal shopper and you just can't beat that," employee Meredith Zinn said. Sounds like my Girls Day Out just turned into a Girls Night Out!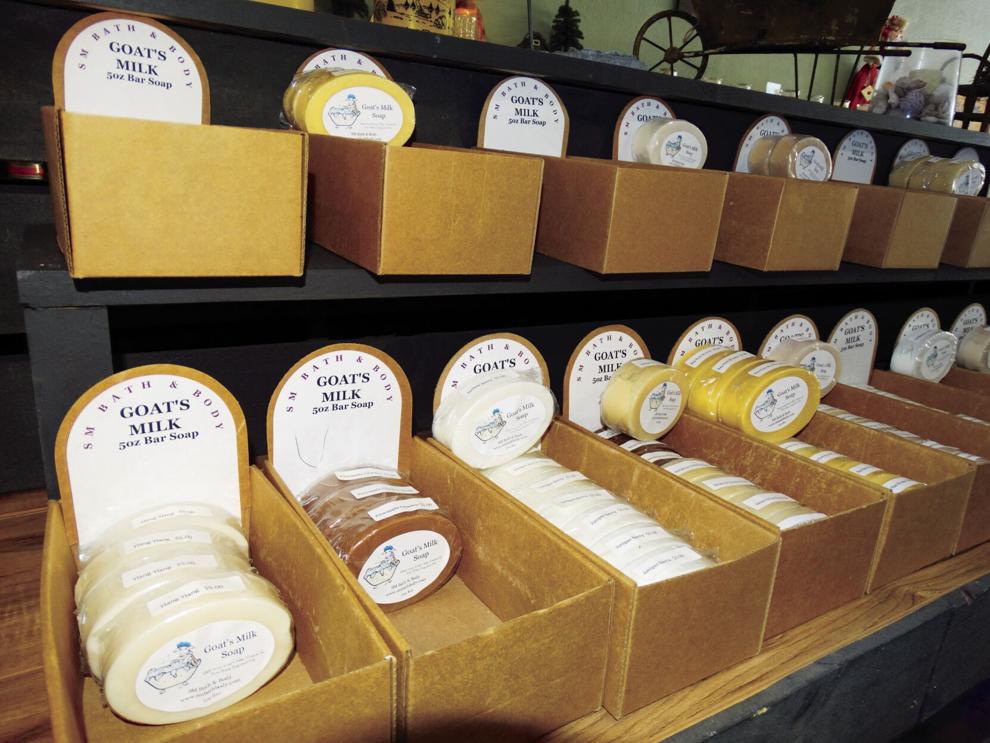 I love smelly candles, so of course next I had to stop at Smoky Mountain Handmade Candles to sniff around a little bit. They have over 100 scents! And they make all those candles, as well as a large line of bath and body products, right there in the store. You can actually watch them work while you browse.
While I may have been there for the candles, I was surprised to learn from owner Marty Fabizak that "by far our best seller is our CDB cream. We make roughly 500 jars a week!" He said he started making the cream years ago for his bad back, but when he realized how effective it was, he decided he should share it with his customers. The response has been outstanding. He laughed as he told me that after an article ran in the Englewood Sun about his CBD cream, it was literally selling as fast as he could make it. "We had a line out the door. It sold so fast I was scooping freshly made cream into containers and selling it to the customer while it was still warm!"
Healthy eats hit the spot
As I strolled east down West Dearborn Street in search of food, I made a quick stop into the EARS Thrift Store hoping there may be a random pooch there to scratch behind the ears. Sadly there were no pups, but my visit was a lovely reminder of what a small world we live in. While chatting with volunteer Leanne Nawrocki, who is currently fostering a Maltese Shih Tzu that was rescued from a puppy mill in North Carolina, she mentioned being from the northwestern Ohio area. Turns out we were both from the same small town—Perrysburg, just outside of Toledo!
I stopped for lunch at Mango Bistro because the menu offered an array of healthy options and I was curious to try one of owner Marie LaForge's organic cold pressed juices. The patio was already hopping at 11:45 and though they have outdoor heaters, I was quite chilly from my walk in the blustery Florida winter and opted to eat inside.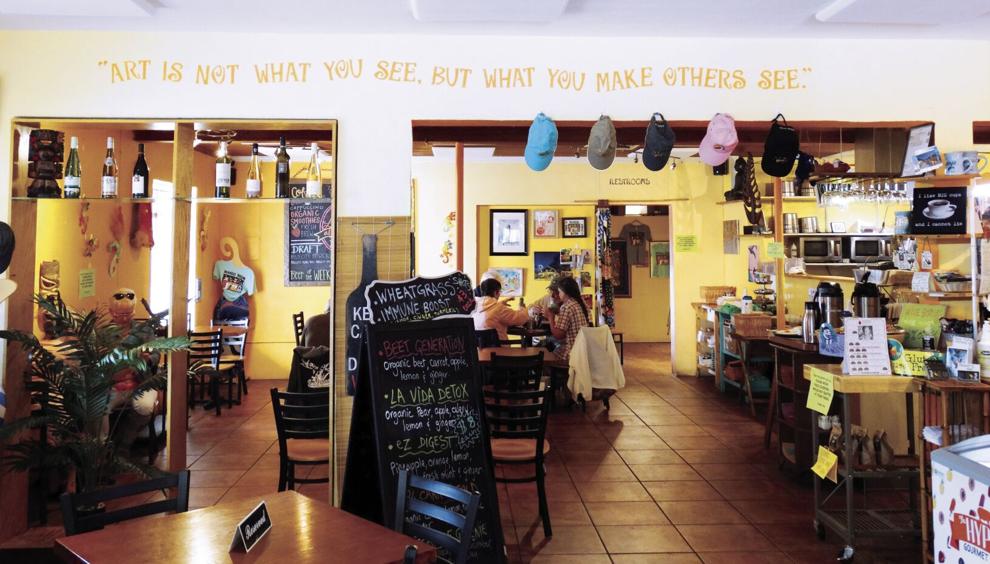 Deciding what to order was challenging because there were so many options to choose from. Mango Bistro even has separate menus for gluten-free and vegan diets. I thought to myself that this would be the perfect place to bring a group of girlfriends because there's quite literally something for everyone. And there's wine … always a bonus.
I decided on the Bali crunch wrap with chicken—organic quinoa, carrots, broccoli, red pepper, cucumber, microgreens and lettuce drizzled with peanut sauce, cause I'm a sucker for peanut sauce—along with a cup of the soup of the day, winter vegetable, which warmed up my insides while providing an extra kick of heat from some red jalapeño. The mixtures of veggies in the wrap worked together so well, especially with the peanut sauce drizzled throughout, and certainly provided a crunch factor. As for the cold pressed juices, I decided on the La Vida Detox—organic pear, apple, celery, lemon and ginger. It was refreshingly light and tart with just the right amount of ginger, a flavor that can easily become overpowering. I can't wait to try Beet Generation next time!
A quick stroll off West Dearborn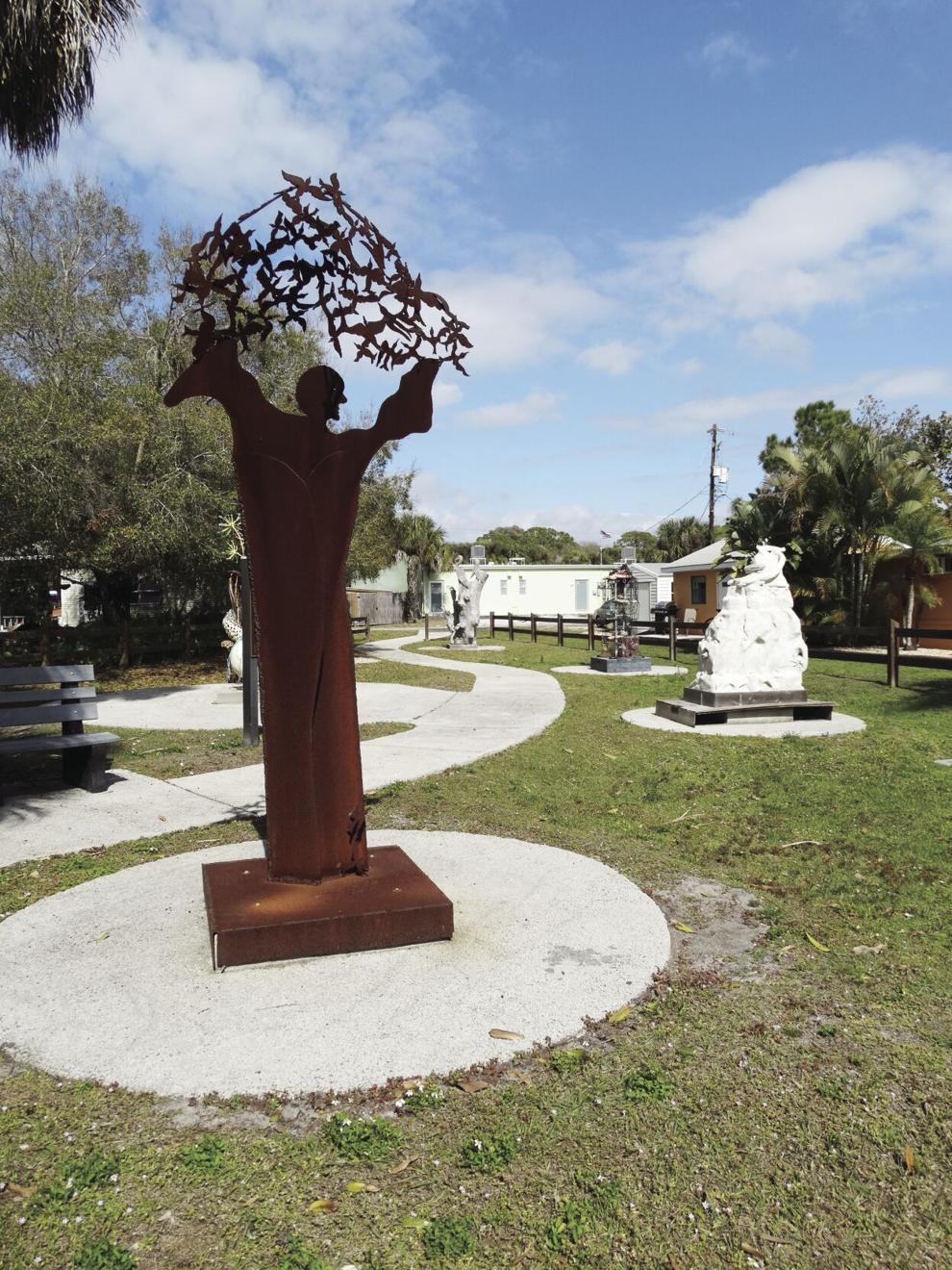 Earlier in the day, the "town council" had told me that Englewood was very parks oriented, so before heading back home, I set out to explore Indian Mound Park, located a little over a half mile from West Dearborn. But it was so cold and windy that I made a detour and headed to the much-closer-to-Dearborn Cherokee Street Park Site instead. I walked out onto the pier and laughed as I watched a heron playing in the high winds. I'll definitely be back—with my highly energetic boys in tow—to check out more of Englewood's parks … when it's not 55 degrees outside.
Along the way I stopped at the ArtScape Sculpture Garden, home to a rotating display of sculptures by local artists. My personal favorite was "A New Generation Races for the Surf," by artist Sherry O'Connell, which shows 15 newly hatched loggerhead turtles making their way to water. Interestingly enough, the day after my visit I learned that the sculptures were actually due to be removed by the end of March and replaced by new artwork selected by the Englewood CRA. Looks like I have yet another reason to head back to West Dearborn Street soon!