Southwest Florida offers ample opportunities to get near the water: beaches, bays, rivers, creeks and many other places where the water is shimmering with the beauty of the reflected sunshine. Did you know that 18.5 percent of the state's total area is comprised of water, making it the 7th most watery state in the nation. Look around and you will see many homes that have swimming pools in the backyard under their elaborate pool cages. When you add it all together, you see why the water is one of the top recreational hotspots in our area.
So it's really no wonder that swimming is a popular pastime here.
Swimming is one of life's skills that offers great exercise and substantial opportunities to capitalize on all that water. Many folks enjoy the occasional dip in the water to cool off. Some use their pools as a great place to do some water aerobics or swim some laps. Still others seek the opportunity to hone their skills and develop swimming as the core sport in their lives.
One of the best places for that skill development is the Sky Family YMCA in Venice. The Y offers swim lessons for all ages, a family swim, both deep water and shallow water aerobics, competitive swimming and diving teams and many other adaptive swimming programs for kids with special needs. There's even a water polo team and various SCUBA groups that meet at the pool for their events. Put it all together, you have a great place to enjoy one of the premier aquatic environments in our area.
Should you be looking to become more involved in swimming, competitively speaking, the Sky Family YMCA Hurricanes swim team is a great place to start. All athletes, ages 6 to 21, novice to national-level competitors, can come for open tryouts, which occur year-round for all groups, so there is no reason to put things off! The Hurricanes team strives to provide a quality youth program for kids of all ages that adheres to the core values of the YMCA: caring, honesty, respect and responsibility.
Y swim coaches teach every participant the fundamentals of each stroke, how they can improve their skills and the personal values of teamwork and fair play. Along the way, participants will develop self-esteem, self-confidence and the ability to relate well as a team member all while having great fun.
For those 18 years and older, the organized Masters Swimming program prepares the swimmer with special workouts for competitive meets or just to stay in shape. While not a "learn to swim" program, Masters Swimming works to provide the adult swimmer with a variety of options.
Hurricanes Head Coach Ann Urschel speaks of the vibrancy of the Hurricanes Program. And she should know—she's been a competitive swimmer for most of her life and received the honor of being the first woman inducted into the Ohio State University's Hall of Fame as a swimmer during her college career. A well rounded and talented athlete, she was also a member of the Ohio State Golf team. Over the years she has coached a variety of teams, most notably the Foxjets Swim Team in Eden Prairie, Minnesota. Under her leadership, the Foxjet team won their state meet 13 times.
"There is a great Masters program for adults here," Urschel noted. "There is the morning swim, the learn to swim program, the partnership with SCUBA, the Water Polo Team and water aerobics. These opportunities are great fun for all involved."
Teamwork, Accountability, Respect
But it is the Hurricanes swim team that most benefits from Urschel's expertise. She has taken swimmers to the Y Nationals every year since 2000. When asked what she looked for in a competitive swimmer, Urschel said, "I look forward to someone with excellent character and the willingness to want to be better.
"Our kids are wonderful. They are willing and have a drive to work. In the process they are receptive to being taught."
What about those who might not do well? "We look for kind kids, not bullies. We stress teamwork and accountability." Those swimmers who look to their coaches for guidance and allow them to direct their hard work do best.
Assistant Coach Mandy Schumaker, who also swam for the Ohio State Swim team with Urschel, agrees. "It takes talented leaders and talented followers," she said.
"It's important to note that even kids who don't think they have skills surprise everyone. You know they are listening to your coaching but might not always achieve the results. It's amazing when they do when it all comes together for them!" Schumaker coaches the Cyclone middle school-aged swimmers and upper elementary.
At a meet in late November, some senior high school boys noted the fact that all the personnel for the meet were busy getting things ready and that it was time for the National Anthem. With no one in sight to do the task, they took it on themselves and sung it "quite well.
That's the caliber of the Hurricanes Swim team members.
In their operation as a swim team, it's apparent that the slowest participant on the Hurricanes team is as important as the fastest. "Everyone respects the process," Urschel noted. "They need to get their skills down pat. They have to know how to do sets and learn how to make legal turns."
Attitudes are not welcome here. "Disrespect is a hot button for me," Urschel said. "It cannot happen in a team environment since it goes completely against what we are trying to accomplish."
The swim program bears much fruit. Urschel's work has netted a 99 percent achievement on placing potential students into a college program with scholarships. COVID-19 has made the entire program quite interesting. The challenges had a great impact on the team size, shrinking from around 70 down to 50 participants. With safe practices and the benefit of a year-round program and hard work by the coaches, that number has climbed back up and now sits around 100 swimmers.
Parents of the children involved often sit back and watch their child's talent in the water grow. Joe Reed's daughter, Arianna, started the program at 6 and is still swimming at 13. "It has never been a chore. What drew us all into the program was the efforts of one of her former coaches," Reed said. "His work got them into competitive swimming."
Apparently, Ariana was well into taking things into her own hands. Reed shared, "She started swimming in our pool at home when she was about two. One day, she went down to the seven-foot-deep end of the pool, took off her swimmie floats, bluntly saying she didn't need these anymore. She jumped in, swam two laps of the pool and called it a day." As a Hurricane team member, Arianna now ranks 7th in the state.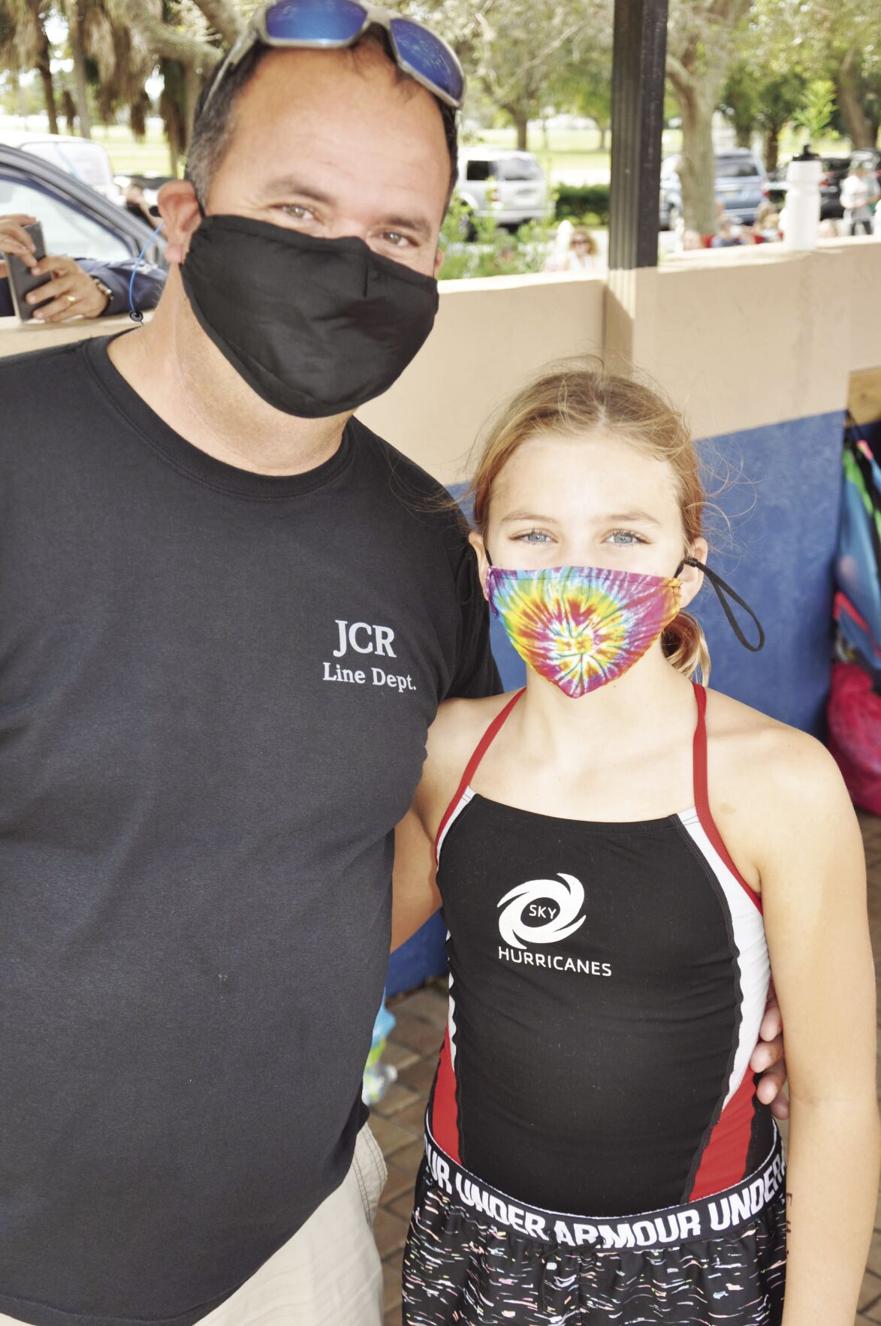 Reed's other daughter, Alexa, followed her sister's example one day by doing just about the same thing—off with the swimmies and into the deep end with her sister. "I decided I would swim," Alexa smiled, "and now my favorite part of swimming is racing each other, being with my teammates and cheering them on when they swim."
While the program is open year-round, there are special summer features such as the Hurricanes' summer development program. The preparatory work during the summer sessions sets swimmers up as participant for the fall teams.
Dave Schumaker, Mandy's husband, is also a coach for the Hurricanes. He held a long-time position at the Greater Columbus Ohio swim team but now handles the computer timing and serves as the Hurricanes' stroke mechanics coach. According to Dave, "It's not just how fast you can go; it's how effective you can do the stroke."
Dave's advice to parents and swimmers alike is good news. "This is a sport you can do for the rest of your life. There are not as many sports out there like this one that are so easy on your joints."
The Sky Family YMCA Hurricanes swim team teaches the fundamentals of swimming and detailed coaching on the mechanics of every action. The entire coaching staff teaches the skills needed, which also have the side effects of self-esteem, confidence, regard for others, time management and self-development. Who knew jumping in the water could have such incredible results?
It gives the observer a chance to realize that somewhere out in the pool might just be the next Olympic hopeful, taking what they have learned and applying it to the next level. It happened once up in Sarasota, and it looks to be only a matter of time until it happens here in Venice.